Dear Festividder,
Here's the things:
Request #1
Deadwood
One of my favorite television shows of all time. So much is under the surface and the characters are intensely compelling. I would adore a vid about any aspect or character or storyline, even ones I disliked, so go wild. I would love to have a vid for Martha Bullock or Jane though. Other character studies of women would be most welcome as well, like Miss Isringhausen or Jewel or anyone else. Who can resist the talents of Anna Gunn and Robin Weigert?
I have a "Women of Deadwood" vid playlist that I pull up once in a while and watch. I always long for a Martha and a Jane vid to round out the ensemble.
1. Trixie in
charmax
's
Bloody Mother
2. Joanie in
kiki_miserychic
's
Special Death
3. Alma
sdwolfpup
's
Woman King
Request #2
Damages
I've always wanted a Damages vid using Electric Guest's
Head That I Hold
. I see it focusing on Patty and Ellen, of course, over the seasons.
Request #3
The Keeping Room
(Safety)
This is one of my new favorite movies. I love the silences and the mood and the characters and everything that it chooses to be. I still think if this movie had been about dudes, people would have been tripping over their dicks like it was "True Detective." The relationship dynamics are so fantastic. It has excellent philosophical monologues and conversations that speak to human nature.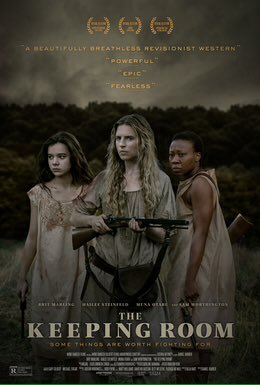 Request #4
Pride and Prejudice and Zombies (2016)
(Safety)
This movie was fun and entertaining. I really loved the imagery of a costume drama frilly dresses and lacy undergarments that revealed guns that the ladies then expertly used. I think a vid could have lots of fun with that. I actually could dig a vid about any woman and any relationship in any style with any music, so do your thing!
I especially would love a wee vidlet, like 30 seconds, of the glorious Lena Headey as Lady Catherine de Bourgh just living it up and being over the top. She has a really small role, but I loved it and love her and would love a fun villainous vidlet.
Request #5
Mother, May I Sleep with Danger? (2016)
(Safety)
I am trash for this movie. Lesbian vampires? I'm there. Lifetime and everyone involved did it almost perfectly. Within the movie there's a MacBeth Shakespeare production with a female MacBeth along with Lady MacBeth and those scenes alone are worth watching the movie. Pearl and Coral are great and so are the vampires, so a general vid or character studies or a Pearl/Coral vid would be fantastic. I will absolutely hate a vid about Bob. I loathe him entirely and won't watch a vid only about him, even if you make fun of his character type. Small amounts of him are ok, but I really want lesbian vampires.
Request #6
RPF - Hoda Kotb and Kathie Lee Gifford
WINE MOMS 4TH HOUR OF THE TODAY SHOW HILARIOUS AND BEAUTIFUL PEOPLE. I love these two women together and their ability to seem like they're just hanging out, drinking wine, doing silly segments on tv, and genuinely having a sweet relationship. Logistically, every year the 4th hour of the Today Show has a clip show that is really all anyone would need for vidding clips. Of course, there are clips available on YouTube as well.
Request #7
You're the Worst
It's show about people who are basically garbage and terrible to each other while being funny. I love it because nearly everyone is shit.
Request #8
Bob's Burgers
I absolutely love and adore so much about Bob's Burgers. I'd love a vid for any character or an ensemble. Literally anything and I'd die happy. An interesting idea I had would be using one of the songs from the recent musical episode and doing a Die Hard and Working Girl crossover vid to the show's song, "Work Hard or Die Trying Girl." It only makes sense if you watched the show. And I'm not even sure that the full song would be available for vidding, but it'd be so fun. Again, I'd love any Bob's Burgers vid because it is the show of my heart. I'm not going to try and sell people on the show because you can Google all the articles that explain the awesomeness.
Louise is me.
MUSIC
As far as music, I can listen to anything for a vid. I do mean anything. Give me your progressive hip-hop, give me symphony covers, give me spoken word. I will buy what you are selling. Musically I'm into Nicki Minaj, Santigold, Angel Haze, and Janelle Monáe right now.
Thank you. You are too precious for this world.
feeling:
creative